How to Avoid Post Holiday Heart Attacks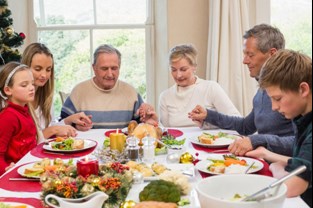 The end of a year always brings about excitement as we wait to ring in the New Year. We attend parties and feasts and enjoy time with our friends and loved ones.
With so much activity and stress surrounding the holidays, it's no surprise that the first and last month of each year are the peak months for heart attacks. Paris Community Hospital has a few tips to help you avoid heart troubles this year.
Limit your drinking. Drinking alcohol in moderation is a good practice to keep your heart–and the rest of your body–healthy. What many don't know is that having one too many drinks can raise your blood pressure in the long term and can trigger an irregular heartbeat, dizziness, and chest pains.
Take precaution in bitter cold weather. If you have a history of heart disease or are at high risk, use caution when doing outdoor activities on cold days. The cold weather can trigger the release of hormones that constrict blood vessels, which may increase your risk of a heart attack.
Avoid overeating. During the holidays we tend to overindulge in our favorite foods and desserts. Overeating foods that are high in fat and sugar could potentially trigger a heart attack. Eating a heavy meal becomes risky when blood flow is being diverted from the heart to aid in digestion.
Don't assume it's only acid reflux. Overeating holiday sweets, fatty foods, and drinking alcohol can trigger acid reflux and heartburn. If you are unsure of the severity of your chest pain, get checked promptly by your doctor, especially if the symptoms persist or are accompanied by weakness or numbness. Emergency rooms are often quiet on Christmas day, not because people aren't in need of urgent care, but because they tend to wait and assume the pain will go away.
Don't let a heart attack ruin your holiday season this year. Make smart, heart-healthy choices so you can ring in a New Year the right way.
If you or someone you know is showing symptoms of a heart attack, call 9-1-1 immediately.
Paris Community Hospital's emergency care team is staffed 24-hours-a-day, 7-days-a-week to provide the care you need in times of an emergency. The cardiology department offers a number of cardiac-related services, including cardiac rehab and stress testing, to aid in the recovery or prevention of heart disease, heart attacks, and other cardiac issues. To learn more about these services or to schedule an appointment, call (217) 465-CARE (2273).