Osteoporosis Awareness and Prevention Month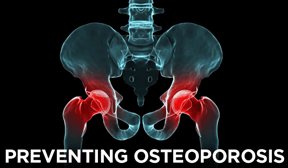 May is Osteoporosis Awareness and Prevention Month, and Paris Community Hospital wants everyone to know the facts, symptoms, risk factors, treatments, and preventative methods of this disease.
Osteoporosis is responsible for 2 million broken bones annually in the United States. Fifty-four million people suffer from osteoporosis, or low bone mass, putting them at risk for becoming one of those 2 million. After age 50, the majority of broken bones are attributed to osteoporosis in both men and women, although women are the more affected by the disease. Osteoporosis is the major cause of broken bones, back pain, and loss of independence.
A gradual loss of bone mass comes with age, and that loss of bone density allows bones to fracture easily. The diagnosis is osteoporosis, and in many cases, a fracture of the hip, wrist or spine is the first symptom. Another sign of the disease is the loss of height. A Bone Density Test is the best way to measure bone health and diagnose osteoporosis*.
Risk factors for developing osteoporosis include the following:
Aging
Family history of the disease
Inadequate intake of calcium and vitamin D
A sedentary lifestyle
Being small-framed or underweight
Taking certain medications that undermine bone density
Smoking
Alcohol abuse
Lowering the likelihood of developing osteoporosis starts when we're young, so encouraging our children and grandchildren to build bone mass now with a healthy diet and getting outside to play is good for their future health. Individuals can protect their own level of bone mass by doing the following:
Maintaining calcium intake through dairy products, dark leafy green veggies, and vitamin and mineral supplements
Maintaining a healthy weight
Maintaining an exercise regimen
Limiting alcohol use and stopping smoking
Discussing medications with our doctor
Maintaining a clutter-free home environment to prevent falls
Paris Community Hospital serves you, your family, friends, and neighbors, and we provide orthopedic and osteoporosis care. Our orthopedic specialists focus on evaluation and offer both surgical and non-surgical treatments. Referrals are accepted, but not necessary, to see an orthopedic specialist at Paris Community Hospital. For an appointment, call (217) 465-2606, Ext. 714.
Paris Community Hospital also offers bone density testing. The hospital will offer free bone density screenings May 26-29, from 8 am to 5 pm, in the radiology department. Bone density screenings will be done through a simple heel scan, which measures bone mineral content in the body. The test takes only minutes to perform. Participants will be accommodated on a walk-in basis and no appointment is needed. For more information, call the PCH radiology department at (217) 465-2606, Ext. 4242.