Doctor Presents PCH/FMC Patient with Diabetes Award
Category: News
Posted On:
Written By:

Horizon Health
George Griffin of Paris is proof that diabetes patients can lead a normal life when the disease is properly managed.
"There are challenges and lifestyle changes," Griffin explained. "It can be frustrating, but it's a disease you can live with and still lead a normal life."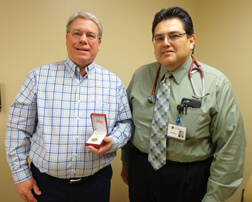 Griffin, 56, was diagnosed with Type 1 diabetes 30 years ago, at age 26. His decades of diabetes management recently were recognized by Dr. Edward Rico, endocrinologist at Paris Family Medical Center, who presented Griffin with the Lilly Diabetes Journey Award.
The award is sponsored by Eli Lilly and Company and honors individuals who have successfully managed their Type 1 diabetes for 10, 25, 50, and 75 years. Eli Lilly, a global pharmaceutical company based in Indianapolis, was the first company to commercially produce human insulin in 1922.
Recipients of the Eli Lilly award are seen as an inspiration to others who face the same lifelong disease. Each recipient receives an elegant medal engraved with his or her name. In Griffin's case, he received a 25-year medal from Dr. Rico, who applied for the award unbeknown to Griffin.
"It's an important accomplishment," Dr. Rico said. "I find it fascinating with all the challenges these patients have experienced. They're like the living history of diabetes."
In Type 1 diabetes, the body does not produce insulin, which is a necessary hormone to get glucose from the bloodstream into the cells of the body. The disease, which accounts for five percent of diabetes cases, is usually diagnosed in children and young adults. It was previously known as juvenile diabetes. That no longer is the case, Dr. Rico said. His oldest patient diagnosed with Type 1 diabetes was 59.
"Everyone who is diagnosed with diabetes is devastated at first," Dr. Rico explained. "But not everyone is doomed to have horrific complications. Insulin has changed over time and is much better today than 30 years ago."