PCH/FMC Recognized for 100 Years of Service
Category: News
Posted On:
Written By:

Horizon Health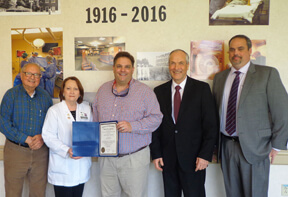 Illinois Senator Chapin Rose (R-51) recently presented a certificate of recognition to Paris Community Hospital for its 100 years of service to Edgar County and surrounding communities.
The original Paris Hospital at Shaw and Crawford Streets opened in 1916, marking its 100-year anniversary in September 2016. The current hospital on Court Street celebrates 50 years in 2020.
Pictured are (left to right): Ned Jenison, PCH/FMC board member; Susan Livvix, chief nursing officer at PCH/FMC; Senator Chapin Rose; Oliver Smith, president and CEO at PCH/FMC; and Marty Adams, chief financial officer at PCH/FMC.