Construction Begins for New EZ Care Building
Category: News
Posted On:
Written By:

Horizon Health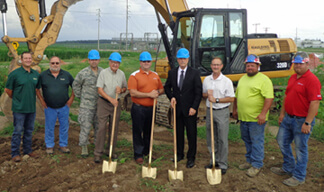 Paris Community Hospital/Family Medical Center held a groundbreaking event July 13 to announce construction of its new EZ Care building on South Main Street, across from the industrial park in Paris.
The EZ Care walk-in clinic has been operating out of a temporary, portable building since last January after being relocated from the Paris Family Medical Center. The permanent EZ Care building will be built on land adjacent to the portable building located at 2200 Main Street. Construction of the new building is expected to be completed at the end of first quarter 2018. Heritage Builders of Effingham is serving as general contractor for the project.
EZ Care treats minor, non-emergency health conditions such as ear, nose, and throat infections; flu symptoms; pink eye; rashes; minor lacerations; simple fractures; and burns. Some minor procedures can be performed. EZ Care is open Monday through Friday from 9 am to 7 pm, and Saturday and Sunday from 10 am to 6 pm.