Horizon Health Awards Doc Acklin Scholarships
Category: News
Posted On:
Written By:

Horizon Health
Registration Open for Third Annual Doc Acklin Race
Horizon Health recently awarded two $1,000 Doc Acklin Healthcare Scholarships to Brody Spencer and McKayla Watson, outstanding seniors who embody the character traits of the late Dr. James Acklin. Funds will be used to further their education in the medical field.
Brody will attend Indiana State University where he will pursue a nursing degr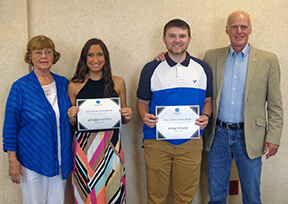 ee.
McKayla will attend Indiana University-Purdue University in Indianapolis where she will pursue a degree in pre-medical imaging technology.
The scholarships are funded through proceeds from the annual Doc Acklin Race. Horizon Health and Paris High School began the program in 2016 in memory of Dr. James Acklin, who passed away August 23, 2015. He retired in 1994 after 34 years as a family physician at Paris Community Hospital.
Dr. Acklin was a respected member of the Paris High School cross country team that captured an unprecedented four consecutive state championships from 1946-49.
Race Registration
Registration is now open for the third annual Doc Acklin Race on Saturday, August 25, at 7:30 am, at Paris High School, 14040 E. 1200th Road, Paris.
A three-mile race open to the public will start at 7:30 am at the school's Cross Country Team Race Course. Anyone is welcome to participate by running and/or walking. Following the open race, an invitational for local cross country teams will begin.
Registration must be received by August 10 to guarantee a shirt. Otherwise, participants can sign up for the race up until, and including, the day of the event. Registration/donation forms are available at registration areas at the Paris Clinic, Paris Community Hospital and at MyHorizonHealth.org/DocAcklinRace. Both mail-in and online registration options are available.
The cost of the open race is $10 per person; or participants can register and receive a race T-shirt for $20. If you are unable to participate, or would prefer to donate, you can do so by filling out a registration/donation form. All proceeds will benefit the Horizon Health Doc Acklin Scholarship.