Dr. Philip Holloway Honored as Rural Physician of Excellence
Category: News
Posted On:
Written By:

Horizon Health
The Illinois Rural Health Association (IRHA) has aw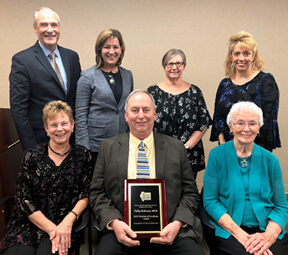 arded Philip Holloway, DPM, a 2018 Rural Physician of Excellence Award.
The award is presented to doctors who have made a significant impact on the health of communities and shown dedication toward improving access to care in medically under served areas of the state.
Family and colleagues recently attended a special reception honoring Dr. Holloway. During the reception, Dr. Holloway received a Certificate of Recognition from the Illinois State Senate and an official proclamation from the Illinois House, as well as the IRHA award.
Eunice Chaney, clinic director/risk manager, nominated Dr. Holloway for the award. She and other colleagues spoke briefly during the ceremony. Margaret Vaughn, executive director for the IRHA, highlighted key points of the award application, including Dr. Holloway's work with physician recruitment and efforts throughout the organization beyond his specialty.
"His passion is not limited to podiatry," she stated, while noting his involvement with the recent development of telehealth services.
Dr. Holloway briefly addressed attendees at the close of the reception. He thanked the IRHA and noted how proud he feels to have spent his entire career in his hometown: "I hope everyone enjoys this place like I do."
Dr. Holloway is the third Horizon Health physician to receive the award, following in the footsteps of Dr. Reid Sutton (2012) and Dr. Leland Phipps (2017).