Spotlight on Kidney Disease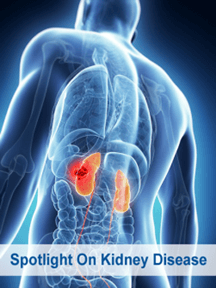 Nearly two percent of Americans are living with kidney disease, and deaths related to the condition number over 48,000 every year. This makes it the ninth leading cause of death in the country. Additionally, the government believes up to 20 million US citizens may have the disease.
There are far too many Americans affected by this condition. That's why Paris Community Hospital/Family Medical Center wants to bring attention to the month of March, which is National Kidney Month.
What is kidney disease?
Kidney disease occurs when the kidneys have suffered some form of damage. You're born with two kidneys, and they're meant to rid your body of toxins. When they are no longer able to do this job, dangerous wastes can begin accumulating in the body.
The kidneys also take part in other bodily functions, such as controlling blood pressure and keeping a proper balance of water in your body. These necessities can also be compromised with the onset of kidney disease.
Who has kidney disease?
While anyone can develop kidney disease, including those suffering from an injury, there are certain individuals who are at higher risk. Hispanics, African Americans, Alaska Natives, and Native Americans all have an increased risk for developing kidney disease. This is related to their higher incidences of high blood pressure and diabetes.
Unfortunately, there are no signs or symptoms of early kidney disease. The symptoms that do start to show up may seem minor. These include increased urination, fatigue, the inability to sleep, muscle cramps and decreased appetite.
Since these symptoms could point toward various conditions or be nothing at all, a blood or urine test is necessary to detect the condition.
Living with kidney disease
Kidney disease is incurable, but treatment can improve quality of life and stop the condition from worsening. Doctors can prescribe medications to fight some of the underlying causes, such as high cholesterol, diabetes, and high blood pressure. Dialysis or a kidney transplant may also be recommended.
There are things you can do if you or a loved one is diagnosed with kidney disease. As seen below, most of these efforts are lifestyle changes:
Reduce salt intake
Exercise regularly and eat well
Lose weight
Stop smoking and reduce alcohol consumption
Avoid ibuprofen and other non-steroidal, anti-inflammatory drugs (NSAIDs) unless your doctor says otherwise
While it's not an easy road, proper treatment and healthy lifestyle changes can help kidney disease sufferers live a happy life.
Physicians specializing in kidney disease see patients at PCH/FMC on a regular basis. Call (812) 232-87161and ask for an appointment in Paris, IL.