'Hope Quilt' to be Displayed at Horizon Health
Category: News
Posted On:
Written By:

Horizon Health
Members of the Cancer Friendship Group at Horizon Health display the "Hope Quilt," a community project that represents the hope and resiliency of local cancer survivors.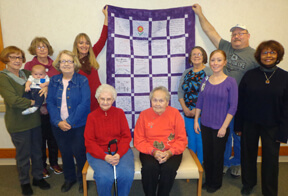 The quilt was made by Barbara Step, a former nurse at Horizon Health. The individual squares were created by cancer survivors at last June's survivor birthday luncheon at Café France. The event, titled "Fabric of Hope," was sponsored by the Horizon Health Infusion Clinic. Individual squares depict the thoughts and feelings of each cancer survivor who participated in the project.
The quilt's lavender and purple colors represent all types of cancer. The quilt will be framed and displayed in a public viewing area at Horizon Health.
Materials for the quilt were provided by First Mid Bank & Trust, First Farmers Bank & Trust, Prospect Bank, and Longview Bank and Trust.