Medical Scribes Help Providers Focus on Patient Care
Category: News
Posted On:
Written By:

Horizon Health
Many Horizon Health providers utilize scribes as assistants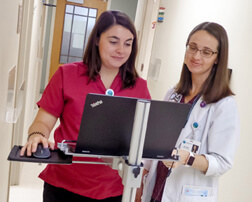 Medical scribes at Horizon Health and across the nation are helping patients get more one-on-one time with their healthcare providers by serving as personal assistants in the exam room.
Several providers in the Paris Clinic use scribes to document their interactions with patients in real time. Once details of the visit are documented, they are reviewed and signed by the provider, and included in the patient's electronic health record (EHR).
Dr. Lauren Fore, family practice, said medical scribes provide thorough and accurate documentation that saves her time, both professionally and personally.
"I can spend more time with my patients," Dr. Fore said. "The focus is more with them and less on the computer."
Scribes also help providers by retrieving patient testing results, nursing notes, and other relevant health information that is part of the patient's EHR. Performing many of the duties that once were the physician's responsibility allows providers to spend more time on patient care.
Having scribes accompany providers in the exam room benefits both providers and patients in several ways, including the following:
Documentation is faster and more accurate. Providers no longer have to split their time between recording details of the visit and diagnosing and treating patients.
Information gathered from patient visits is more readily available and patient records are updated more quickly. Many providers previously would spend additional hours doing documentation at the end of the day or during off-hours.
Scribes save providers time, which can expedite the ordering of prescriptions and testing.
With a streamlined documentation process, providers can spend more time on direct patient care and less time on documentation.
Pia Krieger, medical scribe for Dr. Fore, was previously a scribe for Dr. Rahat Sheikh, family practice at Horizon Health. Her background includes medical terminology, biology, physiology, and anatomy studies at Indiana State University.
"I really like it," Pia said. "I always wanted to be in the medical field. It's really interesting and I've learned a lot."
More medical providers nationwide are relying on scribes to help fulfill the numerous documentation requirements that come with maintaining complete, accurate electronic health records. The American College of Medical Scribe Specialists estimates there are more than 20,000 scribes in the US. That number is expected to grow to 100,000 by 2020.
Scribes at Horizon Health receive proper training that includes HIPAA (Health Insurance Portability and Accountability Act). The federal law provides data privacy and security provisions for safeguarding medical information.
"Scribes are vital to our team and are held to the same patient confidentiality standards as doctors and nurses," said Dr. Fore.