PCH/FMC Showcases Quality Initiatives at State Capitol
Category: News
Posted On:
Written By:

Horizon Health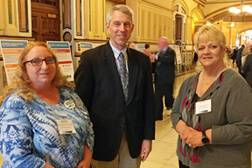 Leaders from Paris Community Hospital/Family Medical Center met with state legislators in Springfield, April 5, to showcase quality improvement initiatives that have benefited patients, families, and communities while reducing healthcare costs.
PCH/FMC's Dawn Welch, RN, case manager, and Amy Arnett, RN, infection control/performance improvement manager, were among more than 100 hospital and health system leaders from across Illinois who attended the Illinois Health and Hospital Association's 2nd Annual Quality Advocacy Showcase.
PCH/FMC's project addressed "improving communication across the care continuum." This initiative involved launching a Community Care Coalition in March 2016, consisting of hospital staff, area nursing homes, home health agencies, and group homes.
"Our goal is to improve care coordination by openly discussing what we're doing well and what we need to improve," said Welch. "We want to ensure a safe transition of care for the patient and improved communication among providers."
As a result of the Community Care Coalition, PCH/FMC has seen a $500 investment produce a savings of $8,000 to $13,800 for each avoided readmission to the hospital.