Hospital Lab Employees Aid in Emergency at Local Restaurant
Category: News
Posted On:
Written By:

Horizon Health
Three Paris Community Hospital employees recently were honored for assisting a woman in distress at a Paris restaurant.
DeAnn Brown, Tammy Huxford, and Julayne Joseph – each of whom works in the main testing lab at PCH – received the hospital's High-Five PRIDE Award for outstanding service.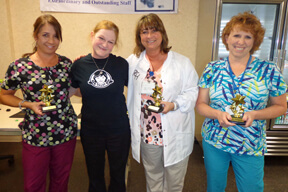 The three employees were nominated for the award because of their swift action while at the Wendy's restaurant on Jasper Street. While inside the busy restaurant during the lunch hour, they witnessed a woman – Michelle Beschorner, a Wendy's employee – having a seizure. They instructed the restaurant manager to call an ambulance and attended to Beschorner until help arrived. They later checked on Beschorner to make sure she was okay.
The person who submitted the award nomination, also a PCH lab employee, stated: "Their quick awareness that something was wrong and their decisive actions may have saved [Beschorner's] life by obtaining the emergency care she needed."
Paris Community Hospital's High-5 PRIDE Award recognizes non-nursing staff for providing outstanding service in meeting the needs of patients, families, visitors, physicians, community, and caregivers. The hospital also honors nursing staff with the DAISY Award, a national program that celebrates nurses who go above and beyond the call of duty to give their patients the best care possible. To nominate someone for either of these awards, visit Thank An Employee.
Pictured (left to right): DeAnn Brown, Michelle Beschorner (Wendy's restaurant employee), Tammy Huxford, and Julayne Joseph.