PCH Volunteers Announce Three Scholarship Winners
Category: News
Posted On:
Written By:

Horizon Health
The Paris Community Hospital Volunteers have awarded $2,000 in scholarships to help students further their education in the healthcare field.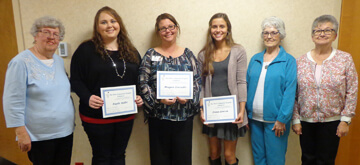 Jenna Lawson of Paris received a one-year, $1,000 college scholarship. As a graduating senior at Paris High School, Lawson will attend Lakeland Community College to study physical therapy/exercise science.
"I'm going to specialize in pediatrics so I can help children," she said. "I have a passion for helping others and have always been interested in how we function and what exactly makes us human."
The PCH Volunteers also awarded two, $500 healthcare scholarships to PCH/FMC employees to continue their healthcare education.
Meagan Lewsader, financial assistance coordinator, will pursue an MBA with a concentration in finance at Indiana State University.
"I want to further develop analysis and business skills and utilize these skills to further my career at Paris Community Hospital," she said. "Our facility is growing and I intend to grow with it and better serve our community."
Kayla Miller, RN, BSN – a nurse in the medical/surgical unit at PCH/FMC – also received a $500 scholarship. She plans to enroll in the nurse practitioner master's program at Indiana Wesleyan University.
"I would like to become a nurse practitioner and help provide care for patients on an inpatient basis," she said.
The PCH Volunteer scholarships are available annually to Edgar County high school seniors, as well as PCH/FMC employees. The Volunteers conduct several events throughout the year to help fund the scholarships, including chocolate sales and book fairs. Funds for the scholarships also come from proceeds from the hospital gift shop. The names of this year's scholarship winners will be engraved on a plaque and permanently displayed near the gift shop.