Partnership Establishes NAL Health Clinic
Category: News
Posted On:
Written By:

Horizon Health
Employees of North American Lighting (NAL) in Paris, Illinois, now have a new option for healthcare. NAL has partnered with Horizon Health to establish a primary care clinic for all employees and family members who carry NAL's Standard and Economy Health Plans.
"North American Lighting is excited to partner with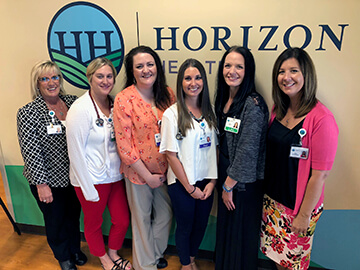 Horizon Health to provide health services to our team members and their families," said Barrie Ballentine, NAL human resources manager. "Everyone realizes the importance of access to care and early diagnosis of potential health risks, and we feel this facility will provide both to our employees, who are our greatest asset."
The NAL Health Clinic is located in Horizon Health's new EZ Care building at 1 Phipps Lane, across from NAL's Paris plant and Corporate Headquarters on IL Route 1 South. The clinic offers all facets of primary care, including health maintenance, disease prevention, patient education, and treatment of acute and chronic conditions.
The two organizations have been developing this healthcare delivery model for more than a year.
"The goal of the partnership is to provide NAL and their employees better care at a reasonable cost," said Oliver Smith, Horizon Health's president & CEO.
The clinic consists of Paige Wampler, family nurse practitioner and primary provider for the clinic; Carrie Cunningham, family nurse practitioner and EZ Care clinic manager; and a team of support staff. Both Paige and Carrie obtained their bachelor's and master's degrees from Indiana State University. Support staff include Leslie Melville, licensed practice nurse; Jackie Landsaw, certified medical assistant; and two receptionists, Twila Lewis and Jeni Lueken.
"This partnership helps control insurance costs," said Martin Adams, Horizon Health vice president of finance and CFO. "For NAL staff and families enrolled in the Standard or Economy Plans, clinic visits—as well as a formulary of stocked, generic prescriptions—are provided at no charge."
The clinic offers staggered hours to accommodate multiple shifts, but should a patient need care when the NAL Health Clinic is not open, the same coverage applies to EZ Care visits. The NAL Health Clinic is open Monday, Wednesday, and Friday from 8 am to 4 pm; and Tuesday and Thursday from 10 am to 6 pm.
"NAL is committed to our goal of being an 'Employer of Choice,' and we feel this benefit opportunity will support that goal," said Chad Thompson, NAL corporate human resources general manager.
Tiffany Turner, Horizon Health chief nursing officer and lead for the project, added: "The benefits of this clinic are widespread. The patients benefit from affordable and/or free healthcare, NAL benefits by being able to better manage their healthcare expenses, and we benefit by having the opportunity to care for more community members and provide better health outcomes."