Horizon Health EMS Now In Service
Category: News
Posted On:
Written By:

Horizon Health
Horizon Health Emergency Medical Services (EMS) took its first call at 7:45 am on Tuesday, April 17, transporting an emergent cardiac patient. By weeks end, the service had 19 responses.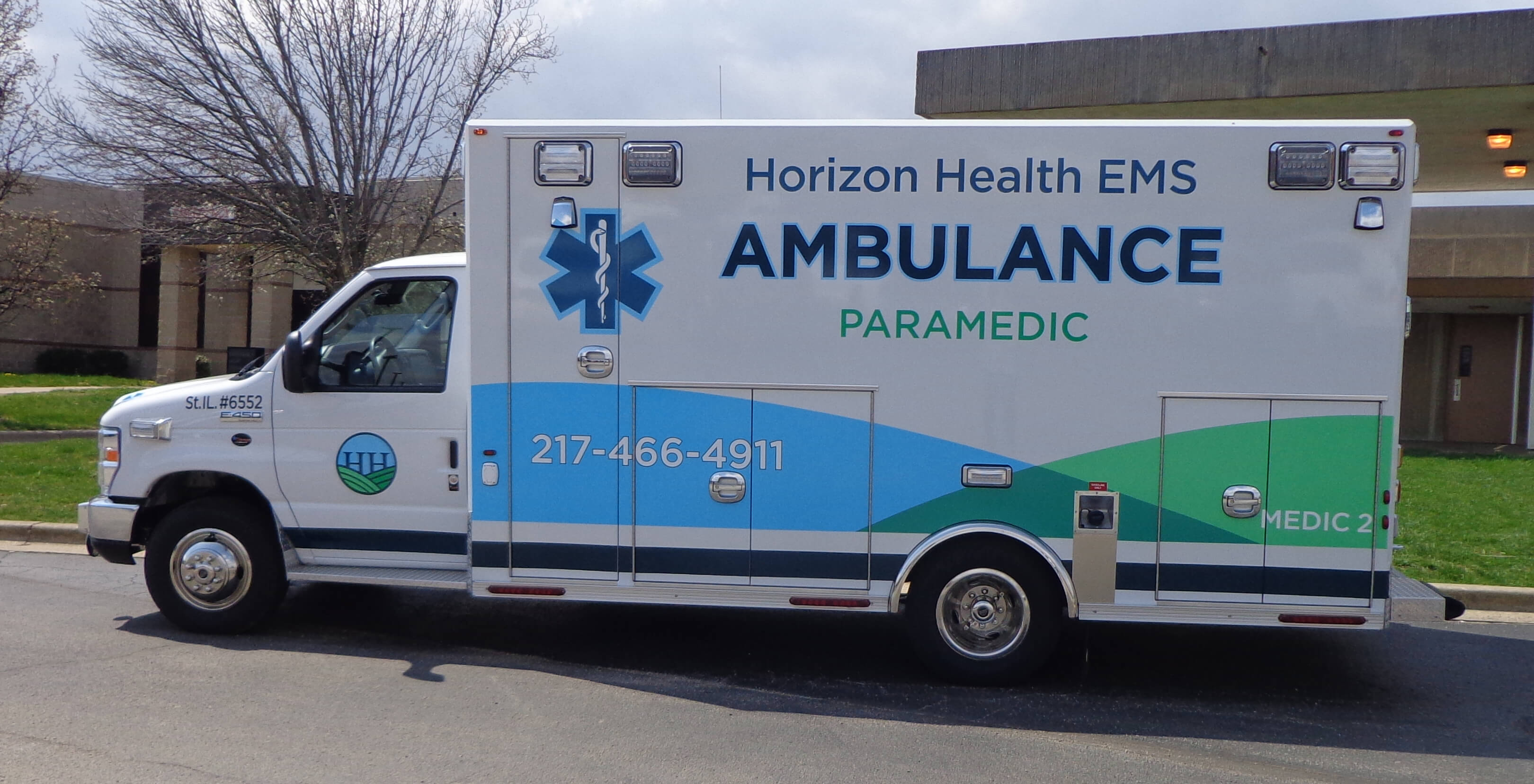 "I'm very proud of our staff for getting this new service pulled together in a relatively short amount of time," said Oliver Smith, Horizon Health president & CEO. "We've chosen excellent people and excellent medical equipment—two necessities in making healthcare delivery successful."
After much preparation, the EMS team successfully passed inspection and received licensing from the Illinois Department of Public Health (IDPH) and Carle Regional EMS on Monday, April 16. Horizon Health EMS went into service at 7am the following day. The service is licensed for two advanced cardiac life support (ACLS) ambulances for both emergent and non-emergent transports.
Both rigs are staffed with a paramedic and EMT. Each ambulance has cardiac monitors, 12-lead EKGs, Wi-Fi data transmission, bariatric-weighted Striker power cots, and all other supplies necessary to administer patient care.
"Our organization has invested in the latest technology and equipment—for both patient and staff safety," said Samantha McCarty, RN, BSN, critical care manager and lead for the ambulance project. "Everything is in place to ensure the best care for our community."
The addition of the Horizon Health EMS service has added 15 jobs to the Paris community so far. This includes nine paramedics averaging seven-to-nine years of experience. Staff are housed onsite
at Paris Community Hospital.
"With our anticipated growth, we do still have employment opportunities for EMS professionals," said Jesse Lewsader, Horizon Health EMS lead paramedic. Interested applicants can apply at MyHorizonHealth.org.
McCarty noted: "If you are truly experiencing an emergency, it's always the right thing to call 9-1-1. Those dispatchers are specially trained to manage the emergency and ensure responding parties get to the right location in least amount of time. Horizon Health EMS will stand ready to assist all area emergency responders as an integral part of the emergency medical system."
"Healthcare is evolving every day," said Smith. "We'll continue to rise to that challenge—assessing what services make sense for our organization and the communities we serve."
Horizon Health EMS is available 24 hours a day, every day of the year. Questions or calls regarding Horizon Health EMS should be directed to (217) 466-4911.