Men's Health Month: Making Health Your Top Priority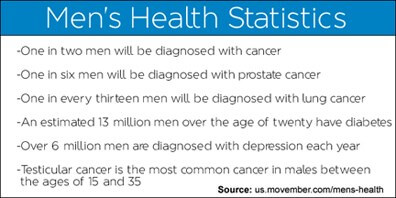 Men often take better care of their cars than their own health.
Heart disease is the leading cause of death in men in the United States, causing one in every four male deaths, yet men are twenty-four percent less likely than women to regularly go to the doctor.
Men tend to assess their health as a low priority, though on average, men live five fewer years than women and die at higher rates from nine of ten causes of death. June is Men's Health Month, and Paris Community Hospital joins many hospitals, organizations, and families across the country in promoting men's health awareness, urging men to make their own health a priority. Consider these top threats to men's health:
Cardiovascular disease—the leading men's health threat
Lung cancer—tobacco smoking causes 90% of all lung cancers
Prostate Cancer—the most common cancer in men other than skin cancers
Skin cancer—men are at a 50% higher risk for developing skin cancer than women due to rate of sun exposure and fewer check-ups
Depression and suicide—suicide is the eighth leading cause of death among all males
Diabetes—a silent health threat for men
Paris Community Hospital in Paris, IL reminds men that some diseases and conditions may not have symptoms, making regular checkups and screenings vital to continued physical health. Your doctor's ability to diagnose issues early, before they become a problem, comes with annual medical exams and screenings.
Remember to make an appointment when you recognize changes in your health. Regular exercise, a healthy weight, a sensible diet, stopping smoking, moderation in alcohol use and controlling blood pressure and cholesterol levels are all important aspects that men should incorporate into their daily lifestyle. Small adjustments combine to make a big difference and may save your life! When you need men's health services, come to Paris Community Hospital. Your health is our priority.