What is Occupational Therapy?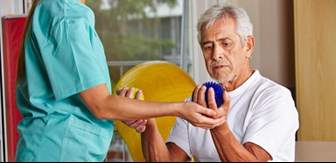 Are you struggling to get back into the swing of things as you recover from an injury or illness or cope with a disability?
You may benefit from occupational therapy, or treatments used to develop, recover or maintain daily living or work skills that people with physical, mental or developmental issues deal with on a daily basis.
Occupational therapy focuses on helping patients adapt to their environment by modifying a task or teaching a new skill. Family and caregivers are also enriched through education and practices that help them work with their loved one on a daily basis.
Is occupational therapy for me?
Occupational therapists (OT) help people to engage or regain function through the therapeutic practice of daily activities. These dedicated OTs work with a range of disabilities and ages, including:
Seniors needing help adapting to their home environment and to accomplish daily tasks, including wheelchair and walker training
Stroke victims regaining hand functionality while eating or dressing
Mentally challenged people learning budgeting, shopping and homemaking skills
By using the simple "occupations" of daily living such as work, play and self-care, occupational therapists evaluate and enhance independence in patients of all ages.
Expanding Our Team: Welcome Sarah Propst, OT
Paris Community Hospital is proud to welcome Occupational Therapist and Certified Hand Specialist Sarah Propst to our Rehabilitation Services Department. Propst provides outpatient treatment for a variety of conditions that affect patients from their fingertips to shoulders. Propst also constructs custom-fitted splints with movable or non-movable parts to fit assorted injuries and issues.
"My focus is restoring function in everyday activities," said Propst." I love to see the progress that people make and their ability to reach their goals." Sarah's services are available with a physician's referral.
Welcome, Sarah Propst! We're glad you've joined the Paris Community Hospital team.