Breastfeeding: Investing in Your Baby's Future
Did you know that breastfeeding doesn't just benefit your baby the first six months or first year of his life? A baby who is breastfed exclusively for the first six months of life reaps benefits into adulthood. And the benefits to the mother last the rest of her life, as well.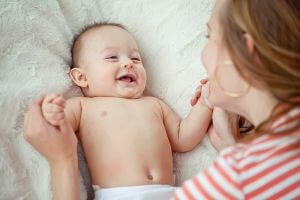 August is National Breastfeeding Month, and the Healthy Start breastfeeding clinic in Paris, Illinois, provided in connection with the Women's Health Services at Paris Community Hospital, help new moms and moms-to-be to invest in their babies' futures.
Benefits for Baby
Breast milk is the best food for baby. It's easy to digest, and is made up of the perfect combination of vitamins, nutrients, protein, and fat.
A mother's milk contains antibodies that protect her newborn against illnesses now, as a toddler, and throughout all of life. Baby is better able to fight off infections and disease early on, such as ear infections, allergies, and respiratory illnesses.
Continuing into toddler and early childhood years, the benefits of breastfeeding are recognized by healthier teeth, less obesity, and lower numbers of those contracting juvenile diabetes and childhood cancers. These health benefits extend into adulthood.
Breastfed children reveal enhanced brain health, showing higher IQ levels, and these levels become greater the longer baby is exclusively breastfed.
When mother chooses to breastfeed, she invests in her baby's future in ways that nothing else can substitute.
Benefits for Mother
Mothers who breastfeed their babies reap their own health benefits from the investment.
Breastfeeding lowers the risk of breast cancer, along with ovarian and uterine cancers, and also may protect mother against developing osteoporosis, heart disease and diabetes later in life.
"Baby weight" can be lost quicker due to the calories burned with breastfeeding and proper diet.
The threat of postpartum depression is lessened.
Financial and time-use benefits arise with breastfeeding. No expensive formula and supplies to purchase, and no bottles to prepare, fill and heat at feeding time.
Breastfeeding mothers share an exclusive intimacy with their babies. Indulging in treasured feeding times allows mother and baby to explore each other's faces, have skin-to-skin contact, and develop a closeness that is like no other.
Healthy Start breastfeeding clinic at Paris Community Hospital provides new moms and moms-to-be with the following:
Breastfeeding education
Encouragement and support
Help with overcoming common problems
Answers to questions